Perthshire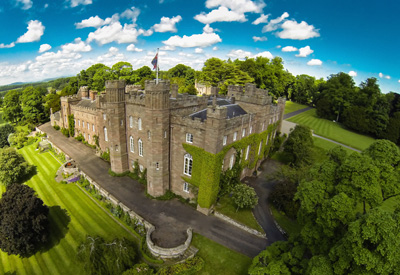 A place of remarkable natural beauty with its tranquil glens, lush forests and a vibrant, ancient city which is also Scotlandís most recent, Perthshire offers visitors centuries of history alongside adrenaline-packed adventure, delicious food and drink, an incredible array of wildlife, some of the most exciting events and festivals in the country and much more.
See why Sir Walter Scott and Robert Burns found literary inspiration in the regionís spellbinding landscape in their works on a visit to the regionís ĎBig Tree Countryí where youíll find dramatic waterfalls, peaceful glens and ancient trees including the Birnam Oak, said to be the last survivor of the oak forest portrayed in Shakespeareís Macbeth.
Spend pleasant days relaxing and unwinding in some of the finest formal gardens in Europe and beautifully maintained parks. Visit in autumn when the forests and woodlands turn dazzling crimson and golden hues. Venture into the beautiful wilderness of Highland Perthshire and scale mountains and hills like Schiehallion and Ben Lawers while keeping your eyes peeled for rare wildlife and plants including delicate Arctic plants, red deer and even golden eagles.
Explore delightful towns and villages, all of which boast their own special charm, history and attractions, and discover the cultural delights of Perth, Scotlandís seventh city. Visit one of the oldest museums in the UK, indulge in fantastic shopping and enjoy great music, dance and theatre performances at the cityís superb venues.
Sample the regionís delicious local food and drink at farmers' markets and superb restaurants, bars and pubs. Visit some of the most historic distilleries in the country and learn about the centuries-old art of whisky production.
Immerse yourself in the regionís compelling past at atmospheric castles and amazingly well preserved historic buildings and homes. Uncover more of the regionís history at a diverse array of museums and historic sites where you can view fascinating artefacts and see where pivotal events in Scottish history took place.
Whatever time of year you visit Perthshire, thereís always a fantastic selection of events and festivals to choose from. Witness the regionís proud traditions and customs at spectacular Highland games and other countryside events, attend internationally acclaimed arts festivals, and enjoy fantastic live music at a range of events, from the unique Perthshire Amber Festival to T in the Park, Scotlandís biggest musical extravaganza.
Click here to find out more about Perthshire.