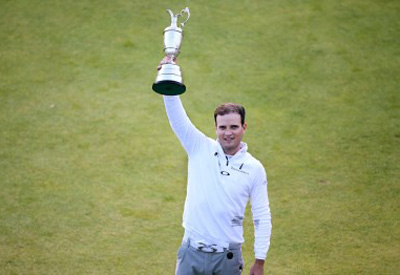 Source:
theopen.com
Zach Johnson is a man who in recent years has tended to live in the shadow of a namesake.
The 32 year-old from Georgia might well have won a Masters title back in 2007 but increasingly he found that it was Dustin rather than him who has hogged the news. Not now. Not after Zach nailed a 30-foot putt on the 72nd hole to complete a closing round of six-under-par 66 and come from three shots behind to tie South Africa's Louis Oosthuizen and Australia's Marc Leishman at the 144th Open Championship at St Andrews. And certainly not after he went on to beat his rivals in the subsequent four-hole play-off.
Zach is now a star in his own right and as Champion Golfer of the Year he joins an illustrious list including Bobby Jones, Jack Nicklaus, Sir Nick Faldo and Tiger Woods who have won the world's oldest Championship at St Andrews.
He might not get a tickertape parade in his honour like Jones did when he returned across the Atlantic after his win in 1927 but his place in golf's pantheon is absolutely assured.
The 144th Open Championship started with Dustin Johnson claiming his accustomed position in the headlines after grabbing the lead with opening rounds of 65 and 69 but he was soon to falter. Jordan Spieth's bid for the Grand Slam and Paul Dunne's attempt to become the first amateur to claim the title for 85 years were also intriguing storylines but in the end it was Johnson's contribution we will remember best as he put together rounds of 66, 71, 70 and 66 to tie Oosthuizen and Leishman on 15-under-par 73 and then beat them with two birdies, a bogey and a par on the four extra holes.
"I said earlier this week that I'm sometimes under the radar," the new champion said. "I don't mind being in that position but I guess that radar is going crazy now."
Johnson also made it clear what winning The Open meant to him
"I feel blessed to be the champion, I feel honoured to part of the history of this game and to don my name on that trophy, especially with the names before me. Humbling and surreal are two words that come to mind.
"I can't play any better than I did. I had a lull on Friday and Saturday, but nothing significant, but stayed in it and waited for the opportunities and made a few."
"I am fairly speechless right now," he added. "Dreams have been realised and goals accomplished.
"I'm humbled, I'm honoured to be your Open Champion and your champion golfer of the year."
Further down the leaderboard Jordan Spieth's brave bid for a third leg of the Grand Slam came up just short when his second shot to the 72nd hole spun off the green and he missed the resultant putt. Spieth carded a battling 69 which saw him finish tied with Australia's Jason Day just one shot out of the play-off one 14-under-par 274 and now the chances are he may never have another opportunity to emulate Ben Hogan by winning the first three Majors of the Year.
Spain's Sergio Garcia, American Amateur Jordan Niebrugge and English duo Justin Rose and Danny Willett all closed with two-under-par rounds of 70 to share sixth place on eleven-under-par 277 while former Masters champion, Adam Scott, stumbled home in 40 shots to tie for 10th place alongside American Brooks Koepka one shot further behind.
Back in 1960 three amateurs – Guy Wolstenholme, Joe Carr and David Blair – finished in the top-ten in the centenary Open Championship at St Andrews. That didn't quite happen this time but, in addition to Niebrugge claiming the Silver Medal while finishing tied sixth in the Championship, his compatriot Oliver Schniederjans and English amateur Ashley Chesters also climbed all the way into a tie for 12th place alongside Brendon Todd, Luke Donald, Martin Kaymer and Anthony Wall.
Sadly it was a day that Irish amateur, Paul Dunne, will want to forget in a hurry. He started the final round tied for the lead with Oosthuizen and Day but slipped all the way down to a tie for 30th place after adding a 78 to his opening rounds of 69, 69 and 66.
It was the end of a dream for the Irishman unlike Johnson who place in history is now assured.